Ethereum recently breached the $2,000 price level again in the past 24 hours as spot Ethereum ETF filings in the US began to pile up. New on-chain data has shown clear sentiment among ETH investors, and it seems many are gearing up for the long term.
The volume of Ethereum held on exchanges has fallen since the middle of last week to the lowest level since 2018, data shows. This means fewer people are selling their Ethereum, and more people are holding on to it or staking it.
Ethereum exchange supply decline
Although Ethereum is still down 2.57% over the past seven days, the cryptocurrency is now trading above $2,000 after breaking the barrier on Monday, November 21. The recent surge would mark the third time Ethereum has surpassed the price level this month, as it is still looking to maintain sustained price gains.
The recent surge can be attributed to the piling up applications for Ethereum spot ETFs before the US SEC. BlackRock, in particular, joined the spot Ethereum ETF race on November 15, driving a price surge that pushed ETH past $2,000 for the second time this month.
It appears that investors reacted to BlackRock's ETH filing with the same sentiment that they expressed in response to the investment company's spot Bitcoin filing. CryptoQuant's exchange reserves metric indicates that investor sentiment began to change around this period, as investors began delisting their assets from exchanges immediately following the news.
According to the metric, the number of ETH deposited in crypto exchanges as of November 15 was 14.5 million. However, on November 20, this figure dropped from 152,583 ETH to 14.3 million.
Source: CryptoQuant
IntoTheBlock's exchange Netflow reflects a similar sentiment. Netflow calculates the number of tokens leaving an exchange by subtracting the number of tokens entering the exchange. According to the metric, there is approximately 228,450 ETH more ETH than inflows to exchanges since November 15.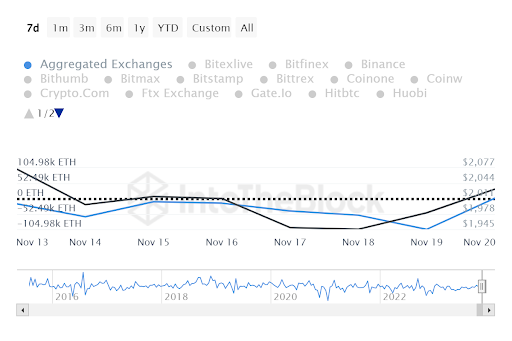 Source: IntotheBlock
What to expect from ETH price action in the coming months
Decreasing exchange reserves reduces the amount of ETH available for trading, increasing scarcity. Data from both CryptoQuant and IntoTheBlock indicate that Ethereum may be poised for a price surge due to increasing scarcity.
Ethereum is trading at $2,013 at the time of writing. We have already seen the crypto rise by 67% from $1,200 at the beginning of the year, and many analysts expect this trend to continue as supply strengthens. According to crypto analyst Tony The Bull, Ethereum could cross $10,000 very soon if a bullish situation develops.
The price of ETH is $2,000. Source: ETHUSD on tradingview.com
Featured image from Exxon, chart from tradingview.com
source: www.newsbtc.com